Inspiración semanal: 03 septiembre, 2021
septiembre 3, 2021

Inspiración semanal: 17 septiembre, 2021
septiembre 17, 2021
El contenido que he consultado esta semana sobre los temas que más me importan
Haikei
App útil, fácil de usar, con un montón de configuraciones y que puedes usar como recurso gráfico en trabajos…
Ver app
The 9 best podcasts to make you more creative
Get the creative juices flowing with podcasts on circular design, UX, and a lot more.
Ver artículo
Rebranding Chernobyl
It has been more than 35 years since the fourth reactor at Chernobyl's eponymous nuclear power plant exploded, killing dozens immediately, thousands in the aftermath, and rendering nearly 1,000 square miles uninhabitable in Ukraine and Belarus.
Ver artículo
Los 17 pecados capitales que se cometen en publicidad
Si los grandes publicistas del pasado levantarán la cabeza se preguntarían cómo es posible que ahora, que es mucho más fácil y barato medir los resultados de la publicidad, se haga semejante publicidad.
Ver artículo
PODCAST | Podcast E047 - Desaprender, con Pedro Serrahima
Los analfabetos del siglo XXI no serán aquellos que no sepan leer ni escribir, si no aquellos que no sepan desaprender…
Escuchar podcast

Eventos que me importan
Si no ocurre nada extraordinario, estos son los eventos que no me voy a perder. ¿Nos vemos?

MOMAD 2021
---
¿Te pone la moda? ¿El retail? ¿El Lyfestyle? ¿Buscas inspiraciones, ideas?
Del 17 al 19 de septiembre en el IFEMA se va a celebrar el Momad, gran escaparate para la presentación de nuevas colecciones, nuevos conceptos de marca y un largo etcétera.
Lo bueno es que cae en fin de semana, ¿quizás coincidamos?
Los libros que estoy leyendo
Durante el año aprovecho a comprar los libros con los que me cruzo leyendo un artículo, siguiendo a alguien en redes sociales o sencillamente conversando con gente por ahí...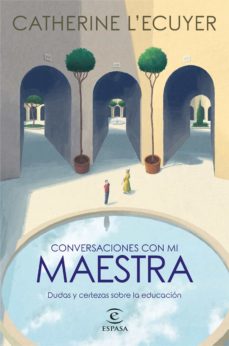 Conversaciones con mi maestra
---
No sé que me pasa, pero con los libros digamos que es uno de los apartados de mis compras impulsivas, ahí lo dejo.
He comprado este libro por una
entrevista
y a raíz de esta, decidí acercarme a la Casa del Libro y dedicarme un largo paseo. Al final ese día acabé con 20.272 pasos.
Llevo de momento 120 páginas y no puedo opinar mucho, pero por conocer otros enfoques y mejorar en lo que hago, es lo que me empuja a conocer otros puntos de vista.